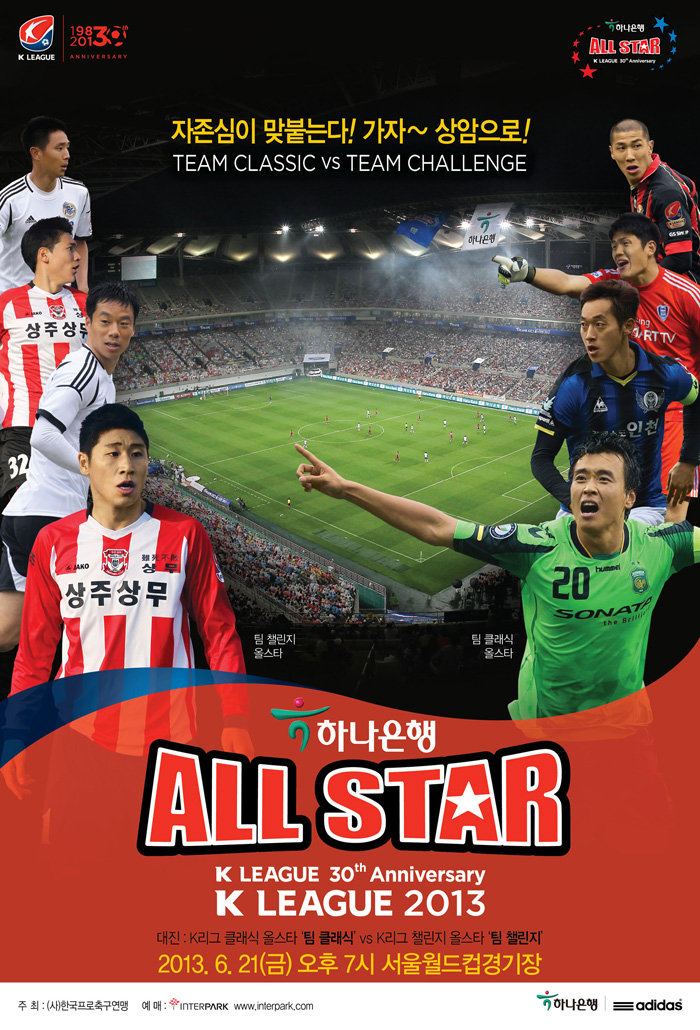 Supporters suffering from withdrawal symptoms since the international break begun will be able to get a football fix in the form of an All-Star game next Friday.
The exhibition piece, which will be contested between the cream of the top two divisions, will take place at Seoul World Cup Stadium and Suwon Bluewings are set to be well represented.
Fans voted four Bluewings into the K-League Classic side and there will be a few familiar faces appearing for the K-League Challenge team too.
It is no shock to see Jung Sung-ryong between the sticks for the top division outfit. The South Korean number 1, who kept a clean sheet in the important 1-0 World Cup qualifying win against Uzbekistan, will be joined by Suwon defenders Hong Chul and Kwak Hee-ju.
Suwon captain Hee-ju recently celebrated ten years at Big Bird and Hong Chul has been in fine form since his arrival from Seongnam this year and both merit their places.
Suwon's captain Kwak-Hee-ju will star for Team Classic along with Kong Tae-se, Jong Sung-ryong and Hong Chul
Suwon's leading striker Jong Tae-se completes the quartet. The North Korean international was named as an attacker in the 22-man squad which will be managed by FC Seoul gaffer Choi Yong-soo.
The opposition are under the command of Police FC boss Jo Dong-hyun and they will be looking to cause a shock.
The underdogs who ply their trade in the K-League Challenge have a side made up mostly from the military teams Sangju and Police FC. Fan favorite and classy South Korean international Yeom Ki-hun will star for the lower division side. The silky midfielder is currently serving his military duty away from Big Bird but Suwon fans will often travel to see him dazzle for the Police. Teammates Yang Sang-min and Oh Beon-seok, regulars in the Suwon defence last year, will join Ki-hun in an attempt to upset the odds.
Tickets available from Interpark at the following link: http://ticket.interpark.com/Ticket/Goods/GoodsInfo.asp?GoodsCode=13005781
Yeom Ki-hun, currently at Police FC, will be joined by Big Bird favorites Yang Sang-min and and Oh Beom-seok
K-LEAGUE CLASSIC
Manager: Choi Yong-soo (FC Seoul)
Coach: Park Kyung-hoon (Jeju)
Coach: Kim Bong-gil (Incheon)

Cha Du-ri (FC Seoul)
Adilson dos Santos (FC Seoul)
Dejan Damjanovic (FC Seoul)
Jung Sung-ryong (Suwon)
Hong Chul (Suwon)
Kwak Hee-ju (Suwon)
Kim Nam-il (Incheon)
Lee Chun-soo (Incheon)
Park Jong-woo (Busan)
Enio Oliveira Junior (Jeonbuk)
Lee Dong-guk (Jeonbuk)
-----------------------
Kim Byung-ji (Chunnam)
Yoon Young-sun (Seongnam)
Lee Woong-hi (Daejeon)
Yoo Kyung-ryul (Daegu)
Lee Myeong-ju (Pohang)
Song Jin-hyung (Jeju)
Lim Sang-hyub (Busan)
Milos Bosancic (Gyeongnam)
Kim Shin-wook (Ulsan)
Jong Tae-se (Suwon)
Ianis Zicu (Gangwon)




K-League Challenge
Manager: Jo Dong-hyun (National Police)
Coach: Lee Woo-hyung (Anyang)
Coach: Kwak Kyung-keun (Bucheon)

Yoo Hyun (National Police)
Oh Bum-seok (National Police)
Yang Sang-min (National Police)
Yeom Ki-hoon (National Police)
Kim Young-hu (National Police)
Jung Jo-guk (National Police)
Kim Hyung-il (Sangju)
Choi Chul-soon (Sangju)
Kim Jae-sung (Sangju)
Lee Ho (Sangju)
Lee Keun-ho (Sangju)
-----------------------
Kim Duk-su (Bucheon)
Lim Chang-kyun (Bucheon)
Son Kuk-hwi (Chungju)
Lim Ha-ram (Gwangju)
Lee Sang-woo (Anyang)
Alexandre Egea (Goyang)
Yoo Su-hyun (Suwon FC)
David Spendley