"A good club laughs together, cries together, goes through the tough times and enjoys the best moments. We do that at Suwon." Eddy Bosnar reclines in his chair and thinks for a moment. "I love this club. I love being here and I love Korea. My wife and family are happy here, and I am happy too. I want to win a trophy this year."
Despite a career that has resulted in a life travelling the globe he couldn't appear more settled at Suwon. The Sydney-born-player started out at Newcastle Breakers in 1999 and it's been a long journey to Big Bird, and he didn't even begin it as a defender.

"When I first went to Europe," he reminisced, "I arrived as a striker but Dinamo Zagreb told me I wasn't one, they said, "You can play centre-back or you can't play at all." I tried to become a centre-back and they were right, here I am today."

"I didn't think about money, I thought about a football career. When I saw I could make a living from it, after I arrived at Dinamo Zagreb, I really tried to hold on to it." Bosnar's face screws up when he considers what he would have done had he not made the grade, "My father has his own butcher shops and he's been a butcher for the last 40 years. I don't think I would be a butcher but I worked at the shops during the school holidays. I always wanted to be an FBI agent or police officer, but more like a TV Show detective. Like Jack Bauer from 24."

Today there is football on countless channels at all times of the day, but a young Bosnar did not have this luxury and
struggled to find football role models
. "We didn't get a lot of football on TV in Australia. When I was growing up, the games shown were always two or three months late. You had to try and watch whatever you could. I grew up trying to watch Paris St. Germain but that was only because it was the first football jersey I had."
When David Moyes, a manger whose reputation is built on shrewd signings, picked up Bosnar from Austrian side SK Sturm Graz it seemed destined that he would become another one of Everton's hidden gems but bad fortune prevented it. He joined at the same time as Tim Cahill but, whist one Australian went on to make a name for himself, Bosnar was left cursing ankle and pelvis injuries.
"I was injured but I can't regret that period, I was selected by a great coach, an honest coach. It was a privileged to be coached under him and he's one of the most honest people I have ever met in my life. He was fair with everybody, he gives people chances. You can see why he is now manager at Manchester United. I am sure he will do a great job there."
Despite injury Bosnar picked up invaluable experience in England
"Wayne Rooney was the best player and you could see it then. As I arrived he was leaving. That kid was just fantastic. Tim Cahill was a talent and Arteta had something special, and now he is captain of Arsenal so to play with some of those players was a privilege."
Bosnar left after a year and returned to Croatia with Dinamo Zagreb then later HNK Rijeka before heading for the Netherlands to play for Heracles Almelo for three years. He then decided it was time for a different challenge and left to forge an existence in Japan. His displays in Japan elevated him to a cult hero status at JEF United Chiba and Shimizu S-Pulse and put him in good stead for the style of football played in Korea.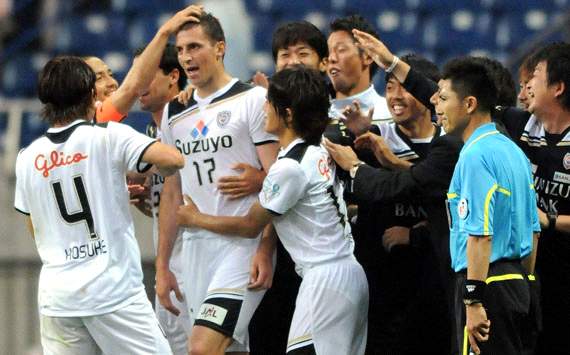 Bosnar was a mainstay in the Shimizu S-Pulse defence and attracted interest from Korean, Qatari and UAE clubs.
It's been quite fashionable for Korean sides to have an Australian centre-back for a few years now and Bosnar believes that many of his countrymen are proving popular because of their physique and attitude. "Australians are big and aggressive and the Korean coaches like that, that's why they opt for us."
Bosnar pulls no punches with his answers and he can be just as honest about his own performances, " It's been maybe a 6 out of 10 for me so far. It's only been thirteen games but it's been up and down." That 6 out of 10 could easily apply to the team as a whole.The performances have been confusing, ranging from dominating to soft.
"
We are a team in transition," he explains, "and you have your ups and downs. You need to take two steps back to take one forward. We are a young team and we have a coach who has just started. You need supporters who understand what is going on. Our supporters have understood the need for patience; they have been good like that. We need to get back on track. We are not far from the top. Any problems we have, can be fixed."
The Champions League campaign never really got started for the Bluewings this year but despite whimpering out without a victory Bosnar was pragmatic with his assessment. "
It was disappointing to crash out of the Champions League but our coach did a great thing," he said.
"Seo Jung-won mixed the team up and gave everyone a chance to play. I felt we only entered the competition because Ulsan won the FA Cup, not off our own merit. It was an experience for us and everybody had the chance to go to Australia, Japan and China and next year when we do get in the ACL we can grab the bull by the horns and hopefully get to the final."
"I have been impressed by the new manager. He was our coach last year so we know him well. He is very hardworking. We try to play a lot more football under him."
Brian Clough once said, and he should know, that if you showed him a club with talent and laughter in the dressing-room then he would show you a club that will win things.
"There is a really good atmosphere between the foreign players," says Bosnar. "We get on well as a group but we don't just stick together the whole atmosphere in the team is amazing, the Korean and foreign players get on well. That's our club's forte I guess."
"The players in the dressing room have a lot of respect for each other. There's always a bit of banter but it's never too serious. It's hard to have the more extreme jokes because there is that barrier with the language."
"Stevo knows how to hide other player's keys and cars," Bosnar pauses, perhaps worried that this revelation will make him the Macedonian striker's next target. "He ties shoes laces in a knot," he continues, " and he loves to change the languages of mobile phones to something like Uzbekistan so that person can't work out what to do. When we get him back he's not as happy."
The laughter seems to have been ticked-off on Brian Clough's checklist but do Suwon have the talent. Bosnar insists that they have it in spades and does not hesitate when asked
'who is the brightest prospect at the club?'
. "
Kim Dae-kyung," Bosnar states as a fact whilst clasping his hands together. "Every club in the world wants their young players to be like him. First of all football is not important, he's well-behaved,
fantastic
manners and he's one of the nicest kids you will ever meet. Great player. He could easily play in Europe in a few years without any problems."
"It's also great to have someone like Jong Tae-se in our team. He's working hard and playing well and he's clearly one of our strengths." The North Korean who is fluent in English has become a good friend of the Australian. "He's a quiet guy but t
he loudest thing in our dressing room are always his speakers."
Last year Bosnar scored a monster free-kick struck from distance at an incredible 123 kmph
(approx 75mph). It's almost impossible to follow the movement of the ball such was the pace of the strike which became the 2012 K-League goal of the year. "
I haven't done it for a while so I might have been lucky," he laughs. "Training, feeling and frame of mind. If I concentrate I can do things like that. It gives us a chance from far out. Even if it doesn't go directly in, it can result in assists or corners."
Bosnar insists with a laugh that he would be able to gently bend them round the wall but never gets the chance. "We have lots of players who can take them closer but I don't get involved in that."
Upon his arrival Bosnar noted that,
"The facilities at Suwon are better than anything I have seen in Japan and it has given me a chance to play at a higher level."
The defender, once once labelled 'one of the most controversial figures never to play for Australia,' accepts that his chance to play for the full team has probably ended. A player with his experience and ability should easily have won a mass of international caps but his publicized fall out with the management seems like it had never been forgiven.
"
That's probably past, I'm thirty-three now. I want to win a trophy with Suwon and then I can move on to my next chapter in my life. First and foremost, I want to win something with Suwon Bluewings."
Bosnar picked Jeonbuk and FC Seoul as the biggest challengers for the title this year. "
I don't think Pohang and Ulsan will hold on to their start, but I may eat my words. In this order, Suwon, Jeonbuk Seoul."
"I think it's about time we did something, it's been many years since Suwon have won something. It's up to us, I think we can, but it will take a lot of hard work."
As for the distant future, Bosnar would like to try his hand at coaching and believes he has a lot to offer in this field. Managing doesn't appeal to him at all and he looks like he is starting to get a headache by just considering himself in that role. "
I'm not sure I could manage footballers' egos. People don't understand how hard a manager's job is, it's a twenty-four hour job. I'm not sure if player's understand how hard a manager's decisions are and how it effects the dressing room. You have so many different characters and you have to find a way to work with all of them, I'm not sure I could do that. You have to be really special to be a manager. One win and you're a king and two losses and you're out."
Eddy Bosnar is a man who is proud of his back story and tries to extract the positives out of each experience. He talks fondly about the distant past and passionately about the distant future but what he is most interested in is talking about 'now,' and right 'now' want he really wants is a trophy at Suwon.
David Spendley